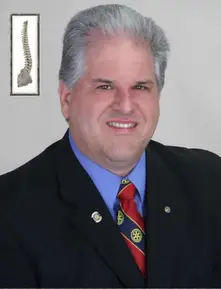 Dr. David M. Carletta, D.C. has been a chiropractor in Burbank for over 35 years.

Dr. Carletta was originally attracted to a career in the chiropractic field, due to the scientific logic of assisting the body in correcting structural disorders without the use of toxic drugs or invasive surgery. He takes great pride in helping patients overcome painful conditions by administering well thought out individualized treatment plans. In addition to chiropractic adjustments, Dr. Carletta fully analyzes and explores the most relevant physiotherapy options, so every patient may receive the most benefit from each visit.

Dr. Carletta also enjoys helping his patients maintain progress between visits by providing practical tips on gentle stretching, ergonomics and daily posture.

His practice emphasizes sports injuries, family care, work related injuries, and the aftermath of auto accidents; but no matter what may be the cause of your discomfort, Dr. Carletta welcomes all patients who are ready to experience the healing potential of chiropractic treatment.

It's no surprise to those who know him that Dr. Carletta has been voted "The Best of Burbank" in the chiropractic category a remarkable seven times! This prestigious honor comes from independent votes submitted to the Burbank Reader newspaper, a publication which maintains an active readership of nearly 30,000 local residents. As a matter of fact, Dr. Carletta holds the distinction of winning the very first award in this category from 1992, when the newspaper initially began publicly recognizing exemplary Burbank businesses. Since then he has been the proud recipient six more times, with recent consecutive awards received in 2017, 2016, 2015 and 2014. "It is an honor and a privilege to serve our patients and the community. We value your confidence in us. Thank you again.", from all of us at Carletta Chiropractic.

Dr. Carletta shares the Media District Chiropractic Location with 3 other Chiropractors; Dr. Williams, Dr. Riba and Dr. Curcuruto, as well as the Acupuncture and Chinese Medicine Clinic of Chen-Hao Yang, L.Ac.

Carletta Chiropractic is a full service facility, offering the treatment methods of chiropractic, physiotherapy, acupuncture and massage. Convenient office hours and same day appointments make this office especially popular with patients.

Beyond his private practice, Dr. Carletta invests a lot of time in the community. He has worked closely with the Burroughs and Burbank High Schools since 1980, as well as the Burbank Viking Football League. This involvement includes providing discount athletic physicals, plus taking the position as an on-field team doctor. Since Dr. Carletta is a proud product of the Burbank school system himself, he is pleased to be so strongly affiliated with these local youth athletic events.

His civic contributions also include membership in the Burbank Sunrise Rotary Club, Board Member of the UMe Credit Union, the School Bond Oversight Committee, and a former member on the Burbank Traffic Commission.

As a lifetime Burbank resident and chiropractor in Burbank for over 35 years, Dr. Carletta is dedicated to his patients and the community.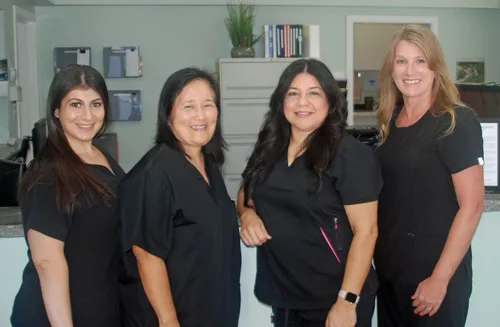 "Where quality patient care and professional reputation come first."

Pictured here is our friendly, professional, and attentive staff; consisting of the office manager, front and back office personnel, plus an insurance liaison. All employees at Carletta Chiropractic are readily able to assist you with intake forms, appointments, payments, insurance documents and any related paperwork.

Intake forms are straight forward and simple to complete. For your convenience, they are also available on our website to print out and fill in before your appointment, which many patients find is a nice time saver. Please remember to bring them with you on the day of your scheduled session.

Our treatment center is located in Burbank, with convenient street parking in front and lot parking in back. We have a pleasant waiting area with comfortable seating, plenty of magazines to read, plus a large monitor providing easy to understand chiropractic themed information. During your session, you will find our exam rooms peaceful and quiet.

The full scope of services available at this facility include various modalities of chiropractic adjustments, physiotherapy, acupuncture, massage, plus nutritional consultation. Whether your condition is acute, rehabilitative, or preventative maintenance, all treatment methods are based upon a come as needed approach. There are no gimmicks, no treatment contracts, and no restrictive wellness packages.

Therapeutic products offered at our location consist of soft ice packs in three sizes, braces, supports and lifts. Some of these items may be covered by insurance.

In addition to the services listed above, Carletta Chiropractic also offers an independent workers' compensation QME by appointment. This Qualified Medical Evaluator is a separate physician who evaluates you when there are questions about what workers' compensation insurance benefits you should receive.

Although there is no X-ray equipment on the premises, within approximately one mile of our center there are two nearby facilities we use regularly for X-ray and MRI services. After a referral by Dr. Carletta, it is a simple process for you to go to either one and have X-rays or MRI's taken. These images usually are ready for viewing in our office by the next business day.

Various insurance plans are accepted for the treatment options described above. Please give us a call to discuss your coverage.

Our experienced employees here at Carletta Chiropractic are looking forward to helping you on your journey to wellness.